Grand testing of Bill Nanson, Master of wine


IRANCY and BOURGOGNE ALIGOTE celebrated
Posted on 06/01/2017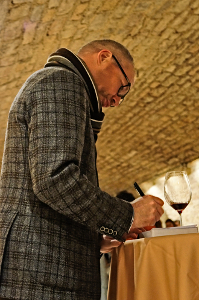 "Irancy La Grand Côte Est 2015
Medium-pale colour. Fresh and herby nose – faint redcurrant. A nice line of flavour here and an intensity that belies the colour. The fruit is quite good, inflected with a little herb. Okay…
Bourgogne Aligoté 2015
Almost 40 year-old vines.
Hmm, this is also very good – fresh fruit with a faint, sweet citrus. In the mouth this is much more tart after the last – mouth-watering, getting better as I become accustomed to it. Perhaps better to leave this as an apero – the acidity is to the fore – but the flavours are very lovely…"
Bill Nanson is a famous independent English speaking author and journalist, founder of Burgundy Report magazine but also an occasional contributor of wine-searcher.com, the UK magazine Decanter, and the Hong Kong-based magazine Le Pan.