Red
White Wines

Chablis


APPELLATIONChablis
GRAPE Chardonnay
GROUND Limestone and marl of Kimméridgien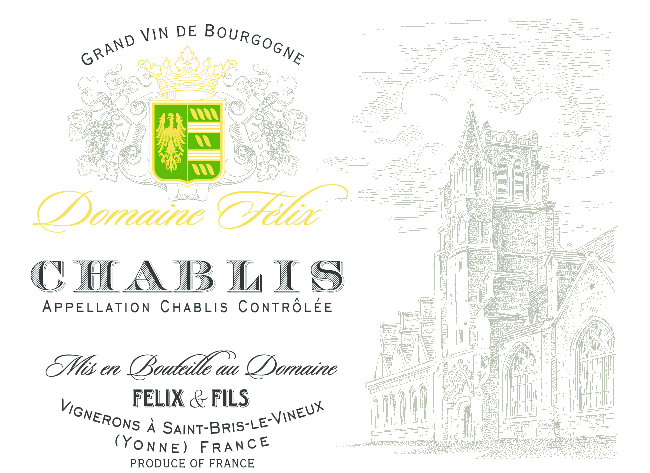 TASTING
Finesse and length are the potential of the wine.
WHEN CONSUMING
From 2 to 8 years, or more depending on the vintage.
WINE WITH FOOD
It tastes with oysters, sole meuniere, sea bream or a bar in the oven, roast monkfish, Saint-Jacques shells just entered the stove, veal stew and goat cheese.
Rewards
| Contest | Vintage | Medal |
| --- | --- | --- |
| Concours Des Grands Vins De France Mâcon | 1993 | Silver |
| Contest | Vintage | Medal |
| --- | --- | --- |
| Concours de Chablis | 1998 | Silver |
| Contest | Vintage | Medal |
| --- | --- | --- |
| Concours Des Grands Vins De France Mâcon | 1998 | Silver |
| Contest | Vintage | Medal |
| --- | --- | --- |
| Concours National des Vins Vinifiés en Caves Particulières | 1999 | Bronze |
| Contest | Vintage | Medal |
| --- | --- | --- |
| Concours Des Burgondia d'Or | 2003 | Elected |
| Contest | Vintage | Medal |
| --- | --- | --- |
| Concours Des Vignerons Indépendants De France | 2008 | Bronze |
| Concours Des Burgondia d'Or Automne | 2008 | Elected |
| Contest | Vintage | Medal |
| --- | --- | --- |
| Concours Des Burgondia d'Or Printemps | 2008 | Elected |
| Contest | Vintage | Medal |
| --- | --- | --- |
| Guide Hachette | 2008 | Selection |
| Concours Général Agricole De Paris | 2009 | Bronze |
| Contest | Vintage | Medal |
| --- | --- | --- |
| Guide Hachette | 2009 | One star |
Download datasheet