Red
White Wines

Saint-Bris


APPELLATIONSaint-Bris
GRAPE Sauvignon blanc
GROUND Clay Limestone, Kimméridgien and Portlandien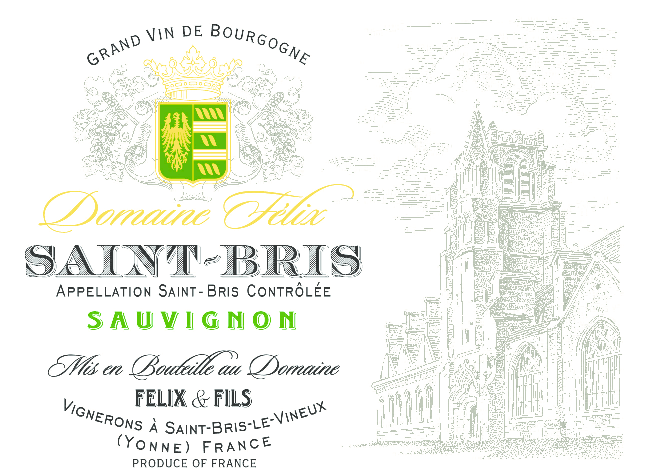 TASTING
We find the flowers in a beautiful expression of sweet mineral together with notes of blackcurrant bud which characterizes the Sauvignon.
WHEN CONSUMING
From 3 to 5 years, or more according to the vintage.
WINE WITH FOOD
Seafood , shellfish, snails of Burgundy, fish dishes, goats cheese salad, white cheeses, lemon tart, citrus sorbets and just aperitif.
Rewards
| Contest | Vintage | Medal |
| --- | --- | --- |
| Concours Général Agricole De Paris | 2003 | Silver |
| Concours National des Vins Vinifiés en Caves Particulières | 2003 | GOLD |
| Vinalies Nationales | 2003 | Award |
| Contest | Vintage | Medal |
| --- | --- | --- |
| Concours Des Grands Vins De France Mâcon | 2008 | Bronze |
| Concours Des Vignerons Indépendants De France | 2009 | Silver |
| Contest | Vintage | Medal |
| --- | --- | --- |
| Guide Hachette | 2008 | Very favorite |
| Concours Des Burgondia d'Or Printemps | 2009 | Elected |
| Contest | Vintage | Medal |
| --- | --- | --- |
| Guide Hachette | 2009 | Selection |
| Revue Du Vin De France Gerbelle & Maurange 'Guide Des Meilleurs Vins à Moins de 20€' | 2009 | Citation |
| Contest | Vintage | Medal |
| --- | --- | --- |
| Tastevinage Automne | 2015 | Tastevinage |
| Un Vin Presque Parfait | 2015 | Selection |
| Concours Des Vins Du Grand Auxerrois | 2015 | Silver |
| Contest | Vintage | Medal |
| --- | --- | --- |
| IWC International Wine Challenge | 2015 | Bronze |
| Concours Des Grands Vins De France Mâcon | 2016 | Silver |
| Cave De Prestige BIVB | 2015 | Selection |
| IWC International Wine Challenge | 2016 | Bronze |
| Decanter World Wine Award | 2016 | Bronze |
| Un Vin Presque Parfait | 2016 | Selection |
| Decanter Asia Wine Award | 2016 | Recommend |
| Concours Des Vins Du Grand Auxerrois | 2016 | Silver |
| Vert De Vin Magazine | 2016 | Selection |
| Bourgogne Aujourd'hui | 2016 | Selection |
| Contest | Vintage | Medal |
| --- | --- | --- |
| Guide Hachette | 2015 | Very favorite |
| Tastevinage Printemps | 2016 | Tastevinage |
| Bourgogne Aujourd'hui | 2017 | 14,5/20 |
| Decanter World Wine Award | 2017 | Silver |
| Vert De Vin Magazine | 2017 | 15,25/20 |
| Un Vin Presque Parfait | 2017 | Selection |
| Contest | Vintage | Medal |
| --- | --- | --- |
| Guide Hachette | 2016 | Very favorite |
| Concours Des Grands Vins De France Mâcon | 2018 | GOLD |
| Decanter World Wine Award | 2018 | Bronze |
| Bettane & Desseauve Guide | 2018 | Citation |
| Concours Des Vins Du Grand Auxerrois | 2018 | Bronze |
| Contest | Vintage | Medal |
| --- | --- | --- |
| Concours Des Burgondia | 2018 | GOLD |
| Contest | Vintage | Medal |
| --- | --- | --- |
| Guide Hachette | 2018 | One star |
| Cave De Prestige BIVB | 2020 | Selection |
| Contest | Vintage | Medal |
| --- | --- | --- |
| The Red Tulip | 2018 | Two tulips |
| Contest | Vintage | Medal |
| --- | --- | --- |
| Concours Mondial Du Sauvignon | 2022 | Silver |
Download datasheet